An ancestral Way that unites man to the Living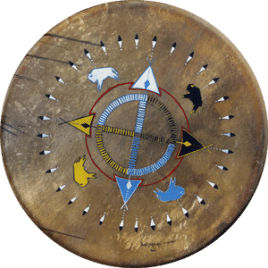 Primitive shamanism dates back to about 40,000 years ago. It is at the origin of the 5 major Ways of Awakening: shamanism, Hinduism, Buddhism, Christianity and Taoism. In these different Ways one finds moreover shamanic rites.
Shamanism is a Way out of all religions. It does not enclose a doctrine or philosophical concepts, it is a practical and not theoretical Way.
The Shaman builds bridges between the visible world and the invisible world, between our world and the world of Spirits. He is a healer of the Soul and the body, he sees the past and the future. But the real power of the Shaman is that of Love and Service to the Divine (Seva).
The Shaman uses the rhythm and sound of the drum to connect with the Elements. This is how he frees us from our evils. But it is above all through his Consciousness that the Shaman puts us in resonance with the language of the Origin of the worlds.
All depends on the Shaman's Consciousness … 
One day, an Indian Swami, visiting France, spoke to the students of White Wolf, saying: "Do you really measure your chance to approach and work with White Wolf, a Master who has power on Karma? "
White Wolf is Yogi Shaman. It is recognized in each of the 5 main spiritual paths: shamanism, primitive Christianity, Hinduism, Buddhism and Taoism. White Wolf thus puts to the service of the divine all the methods received by the Spirit and derived from these different traditions. He can relay them to his students because he has experienced the Awakening by each of these 5 Ways in previous incarnations.
White Wolf is an Enlightened Being and an Awakened Master. He is a Spiritual Guide who has power on karma.

He can only be approached during initiations, darshans or concerts 
Usually such beings live withdrawn from the world … White Wolf, lets himself be approached only during initiations, concerts, darshans … The only fact to bathe in its physical presence is a Spiritual Grace. This Grace also passes through the shamanic music which he composes on the instant.
Faced with the lack of awareness in this world and the urgency of what is happening now, White Wolf has agreed to speak and reveal himself. Until now, He only taught in a very closed and restricted circle of people who knew Him.
  Interviews with White Wolf
White Wolf interviews are treasures of Words of Wisdom. In the outspokenness that characterizes Him, White Wolf highlights all the mechanisms that hinder our own spiritual evolution and that of the whole of humanity. During these interviews, White Wolf offers us keys and practices to free us and surpass us. All those who read these conversations with the open heart feel an energy work in them on the instant, in the following days or in dreams: it is Shaktipata!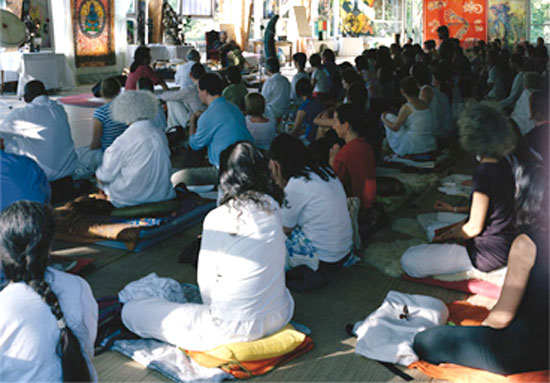 [dt_testimonials type="slider" autoslide="3000″ number="15″ orderby="rand" category="selection"]
Discover Spirals of Life® with one of our Practitioners!









Have a session to discover all many benefits of this Practice!
Take care of Mother Earth and protect our animal brothers
We must be the guardians of Life, respect the flower, the tree, the ant …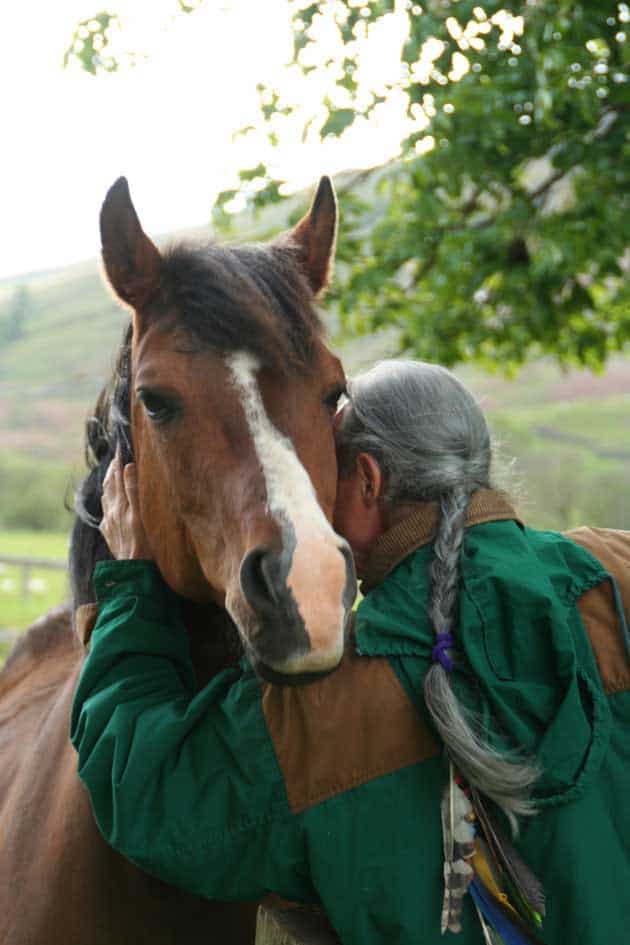 We must banish all animal products from our plates. We should love all animals, flowers, trees, rocks and stones. Everything on this planet is an expression of love. By loving in this way, we will love our fellow men as well. And Life will bless us because Life is Consciousness and Consciousness is Life; Life is conscious! I often hear that one can eat what one wants on the path of light. Those who think this way certainly have work to do on themselves before leading others!
Healthy Food With No Meat!
I have been saying for 40 years now that spiritual evolution is linked with healthy food, which means not to eat any flesh since flesh is dead. A happy life is connected to conscious acts of love and compassion. We are all responsible for nature's equilibrium.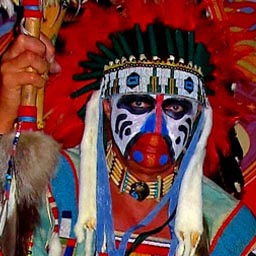 « Open the door of your heart and ask for forgiveness for all the animals slaughtered for the pleasure of the stomach or just for the pleasure of killing! »
[wp-rss-aggregator id="46759"]
  Shamanic music for healing Soul
Through his shamanic music, White Wolf transmits an energy, a Teaching … In fact, White Wolf touch directly to your Soul. The shamanic music of White Wolf is not a music in the sense that one usually hears it, it is a real Awakening tool that promotes the healing of the Soul!
Dance of the Condor by White Wolf
To save the Sacred Mountain of Mongolia
During their meeting in Mongolia, Grandmother Ayangat had testified to White Wolf all her sadness concerning a sacred mountain where for centuries shamans have been buried and honored. Why this sadness? Because this sacred mountain has for some time been a shameful victim of a Canadian mining company! White Wolf had promised her a Sacred Ceremony to help release the site. On October, White Wolf danced for this mountain … Few weeks later the mining stopped!
Grandmother Ayangat, a Mongolian Shaman who was invited by White Wolf, was able to witness the dance of the Condor by White Wolf with amazement. At the end of the Initiation she testified that she saw in White Wolf "a Shaman with an unmatched Spirit …"
  Spiritual Books by White Wolf
Through simple and direct language, White Wolf (Ahimsa Hridayananda) gives keys to freedom and brings a new vision of spirituality by unifying the main ways of Awakening: shamanism, primitive Christianity, Hinduism, Buddhism And Taoism …